EXPECTANT FAITH and PERSERVERING PRAYER rooted in the promises of God
AUCKLAND,  October 6th – 8th 2017
We long to see people around us transformed by the Gospel, and for this Good News to flow through our relational networks, and out into the nations of the world. This all becomes possible as we partner with God, and engage with God in prayer and promises. How do we do this in the midst of work, family and the demands of life?  We will explore the place of expectant faith, preserving prayer and the promises of God.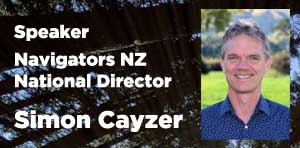 Our keynote speaker is Simon Cayzer, our new National Director. Simon will share the vision God has put on his heart for the Navigators, and what his is learning about engaging with God in prayer and promises from the Bible.
Don't miss the opportunity to be part of what God is doing in the Navigators and the promises God is giving us for the future.
Click Here for Programme Details
VENUE
Rawene Centre, Level 3, 33 Rawene Rd, Birkenhead, Auckland
DATE
6th-8th October 2017 Event starts at 7.00pm on Friday evening and concludes after lunch, Sunday afternoon (approximately 2pm)
CHILDREN'S PROGRAMME
A programme for school aged children will be running, with fun activities and some faith content. Childcare for the under fives will also be available.
COST
This includes Saturday and Sunday lunches, morning and afternoon teas. There will be opportunity for you to explore the local village for dinner options with friends, this is not included in the conference cost.
There will be no travel equalisation this year.
$80 early-bird registration ($100 after September 1)
$60 per person unwaged (includes students)
$35 per child (5-10 yr olds)
Free Under 5's
ACCOMMODATION
This is a live-out event. There are a variety of accommodation options available in the local area. We are also happy to arrange billeted accommodation should you indicate this on your registration form.
For accommodation suggestions:
http://www.airbnb.co.nz or http://www.trivago.co.nz
TRAVEL INFORMATION FROM AIRPORT TO VENUE
DIRECTIONS
Head North across the Auckland Harbour Bridge and t

ake exit

421

for

Onewa Road.  Continue along Onewa Rd for approximately 2.3km until you reach the traffic lights at Birkenhead township.  Turn left into Birkenhead Ave. 

At the roundabout, take the

1st

exit onto

Hinemoa St and then take the first right onto Rawene Rd which is immediately after the roundabout.  The Rawene Centre is along this road 200m on the right.  Parking is on the street or limited parks are available in the centre car park.
PUBLIC TRANSPORT
Take the Skybus (www.skybus.co.nz) from outside the terminal to downtown Auckland. If your accommodation is in Birkenhead, find your way to the ferry terminal and take the Birkenhead Ferry (https://www.fullers.co.nz/GetTimetable?from=AUCK&to=BIRK&). You can then text Logan on 027 607 4365 to request a pickup from the Birkenhead  ferry terminal to your accommodation in Birkenhead. You can also organise transport with Uber from downtown Auckland to your accommodation or the Rawene Centre  (https://www.uber.com/en-NZ/cities/auckland/) – download the Uber app ahead of time if you do not already have this.
TAXI/SHUTTLE
Cost of taxi approximately $100 –  Cost of shuttle approximately $50