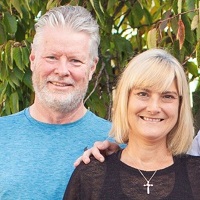 Chairman of the Board and NLT
Wellington
We are based in Wellington and have been involved with The Navigators since 1997. We have an adult daughter Shannan and two teenage sons Jack and Josh.
For the last 30 years we have worked across both public and private sector organisations in project management, change leadership and senior management roles. We feel called to work as insiders: modelling our Christian values and sharing our faith with family, work colleagues and in our neighbourhood.
God has gifted us with leadership, discernment, and administration skills and we are using these to contribute to the governance and leadership of The Navigators.
Mike is the chair of The Navigator Board and has responsibility for guiding the Board as they govern the work of The Navigators here in NZ.
Sharon is a member of the National Leadership Team. Using her work experience in change leadership, communications and project management to support Simon's leadership and contribute to the future of The Navigators.